Part One
Part Two
Once The Blades were done, the bigger aircraft were coming out to play.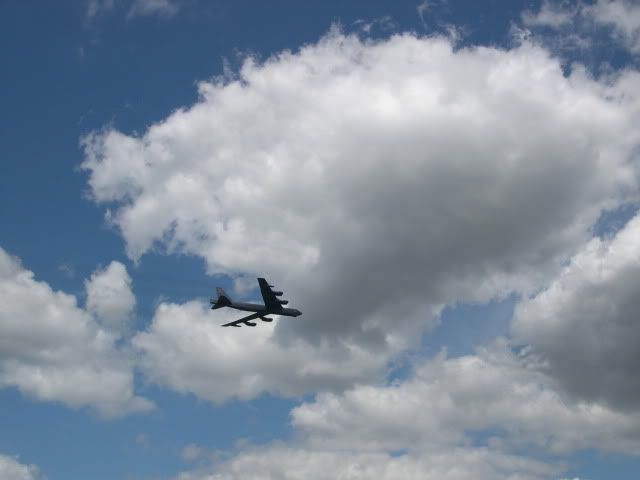 Like this particular bad boy. Providing the core of US strategic air power for almost 50 years now, this is a B-52H Stratofortress, one of the world's most capable bombers. This was only doing a straight West to East fly-past and not a full display, but was spectacular nonetheless. I'm glad I brought my binoculars for this.
I headed off to look at some of the other areas, as a Catalina flying boat, without its floatation tanks (they needed repairs) flew about. These played a key role in the anti U-Boat campaign, protecting Allied shipping from the German submarines - one of them spotted
Bismarck
as well.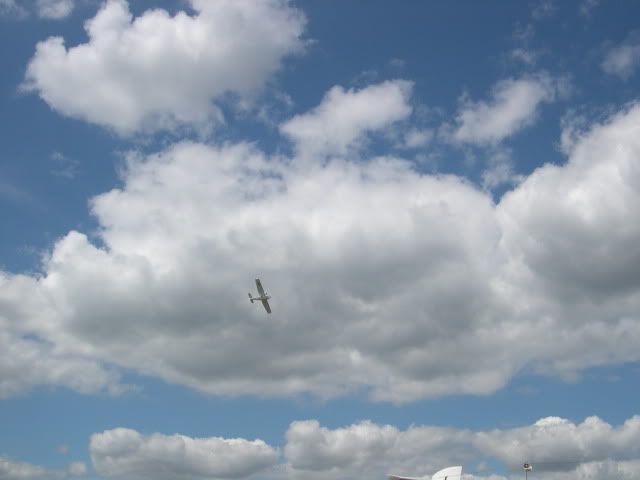 A Sea Hawk (a 1950s carrier jet fighter) and a Seafire (a naval version of the Spitfire; which I didn't know that they'd actually done) did their display, but I wasn't too interested in this- I'd never heard of the Seafire and I'd have probably paid more attention if I had.
I headed into the BAE Systems area after looking at a Typhoon mock-up. The area was dedicated to the controversial company's products and included models (not to scale with each other) of their new warship designs, including their Khareef class corvettes for Oman, a patrol vessel for Trinidad & Tobago and the two new British carriers (if they're not cancelled).
I talked a bit of shop with the guy there and asked him about the Type 26 frigate proposal model they had there. He said ('Pooners may want to take note) they were looking at 5-6,000 tons displacement and CAAMS armament, but not PAAMS - so an FF, not an FFG.
Then I saw something that was also making its debut here; it may well feature in some
Harpoon scenarios
. Two of them in fact. I wondered what it was (some kind of Mirage, perhaps?) until I recognised the Pakistani flags on the pilots' uniforms.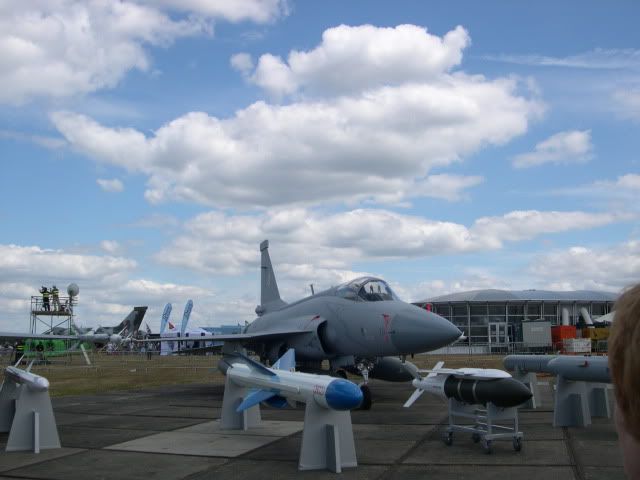 The JF-17 Thunder, the new Chinese-Pakistani fighter, making its Western debut here. It didn't fly on that day.
I saw the C-27J Spartan do its display; an good light air lifter that has yet to get many sales and then went to look at a Battle of Britain display, rushing out when I heard the M346 light attack aircraft/trainer arrive.
The C-130J Super Hercules then did its display. Both this and the Spartan did steep ascents from take-off; a key element in hostile areas where someone might be waiting in the bushes with an Igla hand-held SAM launcher.
Then, the noise was brought.
(Part Four
)